My Story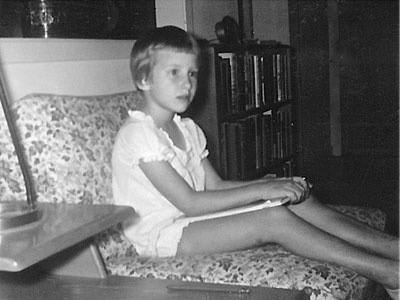 For some of us there is work we seem born to do. In my case, that seems to be true. When I was in college and told my parents that I wanted to pursue a career in speech-language pathology, they both smiled and asked if I remembered a special time when I was just starting first grade. As I struggled to recall anything in particular, they shared what turned out to be a very special story.
Susie, my little sister, and I were (and still are) best friends and shared everything. So it was only natural that as soon as I got home from school I taught her everything I had learned that day.
I also apparently decided that Susie needed help saying her "s" sound correctly (she substituted the "th" sound for "s"). We thought she sounded cute when she said "Thoothie" for "Susie", etc., but when other children made fun of her and told her she "talked funny" and "like a baby", my protective big-sister instincts kicked in. Every night, while sitting in our favorite comfy living room chair, I showed Susie every picture of every "s" word in our Golden Dictionary while modeling how to say the "s" sound correctly.
Although I never spoke to my parents about my plan until Susie's first "lesson", they made sure to carve out "Golden Dictionary time" before bed each night from that point on. Before we all knew it, Susie was proudly saying her Ss just like the rest of us.
Although it seems like a lifetime ago, I still have the same drive to help little ones, and feel so very privileged to work with children and their families who inspire me, enrich my life, and make me smile!
"If one is lucky enough to find a line of work that has purpose, that calls to us and inspires us, it is a blessing that then allows our talents to flow out and serve others." –Unknown
Awards/Training
ACE AWARD WINNER 2011, 2012, 2013, 2015, 2016, 2017 American Speech-Language-Hearing Association Award for Continuing Education (ACE)
Presented to Nancy M. Sims by the Continuing Education Board of The American Speech-Language-Hearing Association in Recognition of Exceptional Commitment to Continuing Professional Education and for Earning 7.0 CEU's (70 Hours) in courses offered by ASHA approved providers
CERTIFICATE OF APPRECIATION "Presented to Nancy Monroe in Recognition of a Significant Contribution to the American-Speech-Language-Hearing Association and to the Profession of Speech-Language Pathology and Audiology November 1984"
CERTIFICATE OF APPRECIATION "Awarded to Nancy L. Monroe by the Veterans Administration for Outstanding Performance of Your Duties during the rating period of May 1, 1983 through April 30, 1984. Signed by John W. Ditzler, M.D., Medical Center Director"
CERTIFICATE OF TRAINING Presented to Nancy Sims for completion of all requirements for the 3-day Introduction to PROMPT: Technique workshop. February 2-4, 2012.
CERTIFICATE OF TRAINING Presented to Nancy Sims for completion of the 4 day Introductory Course in Orofacial Myology by the Coulson Institute of Orofacial Myology September 24-27, 2016